Most parents will tell you that keeping children away from phones, iPads, TVs and computers during the holiday period or any time can be next to impossible. Admittedly, plonking the kids down in front of a screen will give you some peace and quiet, but as your parents might have told you, it's important for kids to "get outside and play".
Studies have shown that children who play outside develop better immune systems, have enhanced communication skills and are less prone to behavioural problems. Plus a good afternoon walk can burn off some of that extra energy and how lucky are we to live in the Toowoomba region with parks, waterways and wide open spaces right on our doorstep.
If you're worried about sending your kids outside unattended, or you don't have access to safe play areas, we've also got some ideas for indoor games.
Ditch the technology and pitch a tent. Camping out in the backyard can be just as exciting as going to a campsite. Plus, you have all the amenities of home right there in case you need them. Let your kids know you're just as committed as they are by leaving your tech gadgets inside too. While your outside, gather stones from the yard, paint with 'x' and 'o' and play a game of outdoor tic tac toe.
Make a list of things that you might find in your own backyard and send the kids out on a collecting mission. Include prizes for whoever manages to find all the items first.
This game will work for collecting things like bugs, leaves and stones. For the environmentally minded, why not get them to collect litter too and offer a bonus prize.
Break out the string, glue, pencils, cardboard and glitter and let the kids use their imaginations to create a nature-friendly home craft project using the items collected on the scavenger hunt.
Decorate pine cones with spray-paint and glitter (with adult supervision). Create rubbings by placing a piece of paper over an interesting leaf or piece of bark and use a crayon or pencil and gently shade over the item to reveal its texture. Make pressed flowers by placing them between sheets of baking paper in the middle of a book and weigh it down with a stack of other books. Give it a week and you'll have pressed flowers to use in collages or other projects.
Other easy ideas include letting the kids get creative with play dough creatures.
Play dough creatures
What you will need:
Play dough
Plastic eyes or buttons
Pipe cleaners
Let them use their creative thinking and imagination to create any creature they want. The possibilities are endless.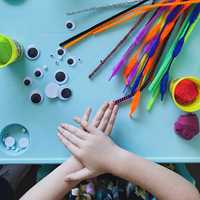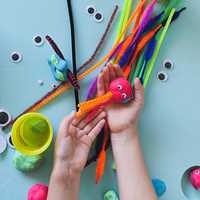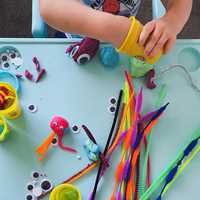 Furniture Fortress
We're pretty sure this is still just as fun to do when you're an adult as when you're a child. Call it an indoor camping experience, the best fortresses are generally made out of strategically placed lounge pillows, coffee tables and blankets. The beauty of this activity is that if the fortress collapses – which it almost certainly will – no one gets hurt.
Help your kids out when they're building the fort and let them hang a "No Adults Allowed!" sign over the entrance. Unfortunately, most of us are probably too big to fit in there anyway.
A puzzle might keep the littlies occupied for a while, but eventually they'll run out of patience and their concentration will drift elsewhere. Snakes and Ladders or Checkers is good for 5 year-olds and over, but if you think you have a child prodigy on your hands it might be time to dust off the chess board.
Chess requires intelligence and exceptional concentration so you might want to save it for when the kids reach double digits.
Most of these activities can be done without spending a dime, but if you're short on glitter or ready to revamp your board game collection, we've got you covered. For craft items drop into Kmart or Big W, while Zing Pop Culture stocks all the board games you could wish for. Toymate has plenty of options for indoor and outdoor games and the staff are extremely helpful.